Nimble- S suspended luminaires 715A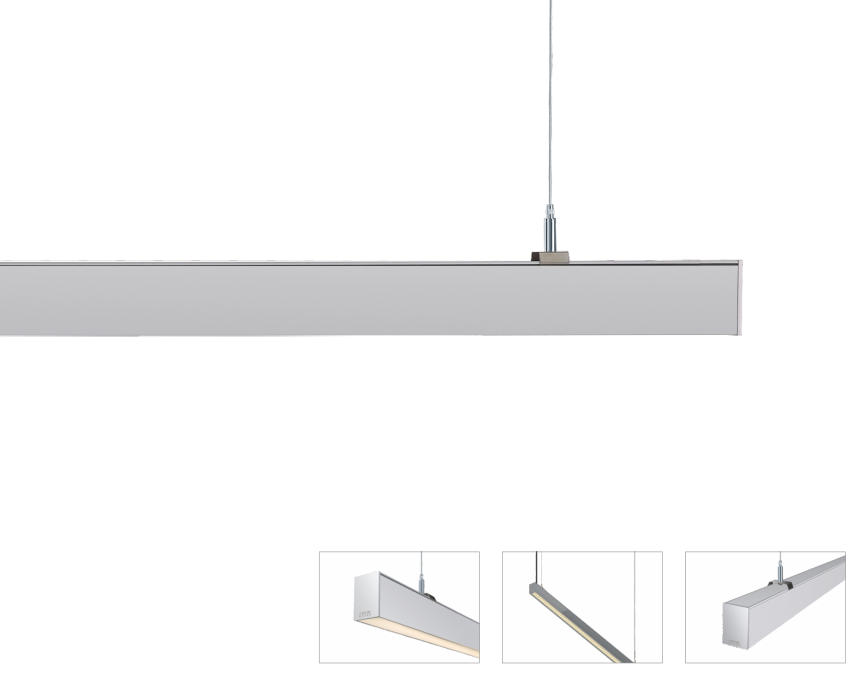 Description:
---
715A series suspend mounted linear LED luminarie, housing made of high pressure extruded aluminum construction, die-cast aluminum end caps with no visible screws, UV and corrosion resistance, with beautiful appearance, the scientific proportion and reasonable dimensions, flexible installing methods, light body, excellent heat dissipation. The luminarie combined with the concept of indirect/direct lighting distributions, applying anti-glare diffuser and double transmission principle of secondary reflection, high transmittance PMMA diffuser specially designed for LED light source creating smooth and uniform lighting distributions high visual comfort for all lighting applications, without visible dark spot or light gaps in seamless continuous lighting system. Advanced thermal management technology to ensure consistency of LED life span, color temperature and maximize output lumens.
Applications: Office, Educational Institutes, Hospitals, Warehouses, Hospitality, Retails Etc.


Technical Data:
---
Product name: 715A Suspended luminaire
Type: Suspended
Housing material: High-quality Aluminum alloy
Surface finish: Electrostatic thermo-painting
Diffuser material: PC
Light source: SMD
Luminaire efficiency: 80 lm/W
CRI: ≥83
Color temperature: 3000K/ 4000K/ 5700K
Input voltage: 220-240V
Driver: High efficiency driver
Lifespan: 30000h
Electrical grade: Ⅰ

Details:
---

Standard single fitting:
---
Item No

Power(W)

Light type

Flux(lm)

CCT(K)

Color

L*W*H(mm)

715A-SS1150T18W

18

SMD

1460

3000/4000/5700

Silver/White/Black

1150*43*64

715A-SS1710T27W

27

SMD

2180

3000/4000/5700

Silver/White/Black

1710*43*64

715A-SS2270T36W

36

SMD

2900

3000/4000/5700

Silver/White/Black

2270*43*64

715A-SS1150T36W

36

SMD

2900

3000/4000/5700

Silver/White/Black

1150*43*64

715A-SS1710T54W

54

SMD

4340

3000/4000/5700

Silver/White/Black

1710*43*64

715A-SS2270T72W

72

SMD

5780

3000/4000/5700

Silver/White/Black

2270*43*64

715A-SS1150I18W



18

SMD



1460

3000/4000/

5700




Silver

/White/Black




1150*43*64




715A

-SS1710I27W




27




SMD



2180

3000/4000/

5700




Silver

/White/Black




1710*43*64




715A

-SS2270I36W



36

SMD



2900

3000/4000/

5700




Silver

/White/Black




2270*43*64




715AU-SS1150T36W

36

SMD

2900

3000/4000/5700

Silver/White/Black

1150*43*64

715AU-SS1710T54W

54

SMD

4340

3000/4000/5700

Silver/White/Black

1710*43*64

715AU-SS2270T72W

72

SMD

5780

3000/4000/5700

Silver/White/Black

2270*43*64